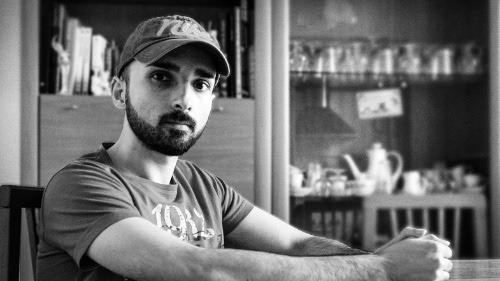 J.L. Martín Férriz was born in Barcelona in 1984. He is an illustrator whose interest focuses mainly on fantasy themes, cinema, science fiction, epic, adventures and legends.



Already in his early years he showed as an observer and curious person who drew and painted everything that caught his attention: space travel, mysteries, dinosaurs and dragons, superheroes could be some of his favorite subjects. At this time his main influences were Dragon Ball comics, Star Wars movies, Jurassic Park as well as Spielberg films generally always managed to captivate and awaken the imagination.



It is for this reason that after completion of studies he decided to continue developing his artistic training by studying illustration at the School of Art Llotja in Barcelona.

Currently, Martin Férriz works by combining hand illustration, digital illustration, photography, textures and digital effects, with greater reach in one or more of these areas depending on each project and time. Patient and consistent continues to explore new styles and ideas thus maintaining as an artist in constant evolution.
------------------------------------------------------------------------------------------------------------------------------------
J.L. Martín Férriz nació en Barcelona en 1984. Es Un ilustrador cuyo interés se centra principalmente en temas de fantasía, cine, ciencia ficción, épica, aventuras y leyendas.

Ya en sus primeros años se mostraba como una persona observadora y curiosa que a menudo dibujaba y pintaba aquellas cosas que captaban su atención: viajes al espacio, misterios, dinosaurios y dragones, superhéroes podían ser algunos de sus temas preferidos en aquella época. Sus influencias principales fueron los cómics de Dragon Ball, las películas de Star Wars, así como el cine de Spielberg en general que siempre lograba cautivar y despertar la imaginación.

Es por estos motivos que al terminar los estudios decidió desarrollar su faceta más artística estudiando ilustración en la Escuela de Arte Llotja de Barcelona.

En la actualidad, Martín Férriz, con un estilo cercano al universo cinematográfico a través del uso de la técnica del matte painting, y la combinación de ilustración con fotografías sigue explorando nuevos estilos e ideas manteniéndose así como un artista en continua evolución.